Learn all about herringbone tile floors! Find out what type of tile you'll need to achieve this look, where to purchase, design details and more. Herringbone floor tile is a timeless, beautiful look that you can use in many rooms of your home.
Herringbone floors have actually been around for centuries, but this style is having a fresh, modern moment in interior design. It's a historic look but one that feels interesting and new all at the same time.
Learn the history of this pattern, along with all the inspiration you'll need to take the leap and install herringbone tile floors in your own home.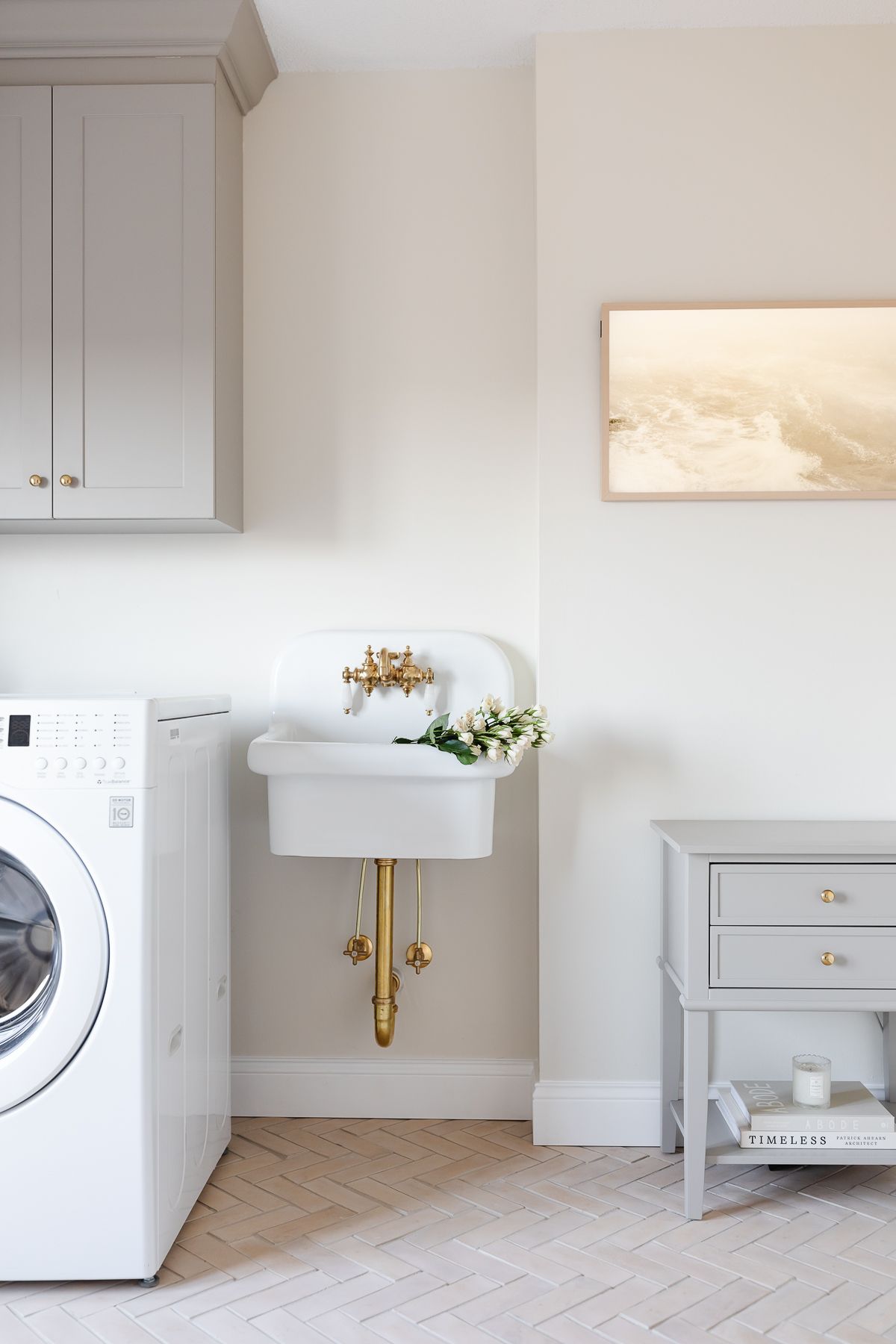 I've long loved the look of herringbone flooring. I love that it feels right at home in a vintage French apartment, and also in a modern urban loft setting. There's just something so sophisticated about it!
When we started the renovation in our Second Level Laundry Room, we knew we wanted a special flooring that helped separate this room from the rest of this floor.
This room actually serves more than one purpose. It's where I torture myself with cardio in the mornings, too! I wanted to find a flooring that would feel like a beautiful (yet practical) upgrade from the previous carpet and linoleum.
In our situation, (a laundry room with lots of moisture) a herringbone wood floor wasn't ideal. Enter this fabulous new herringbone tile! I love the way it turned out, and I couldn't wait to share it with you.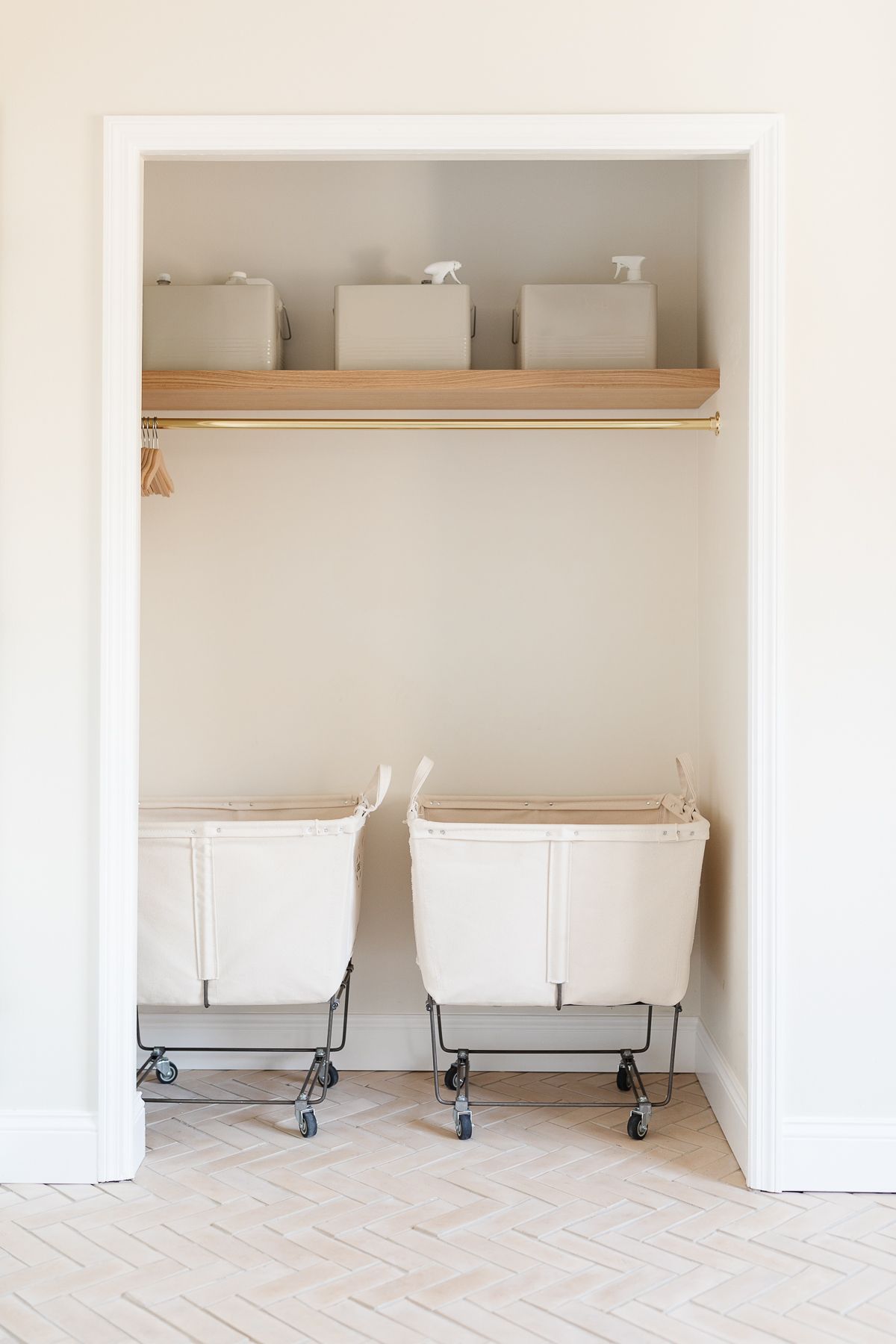 Herringbone Floor
If you're searching for flooring inspiration, you're in the right place! Don't skip our comprehensive guides to a variety of flooring styles. From LVP to White Oak Floors and Wall to Wall Carpet, it's easier than ever to make long term decisions for your home.
The first thing you should know, is that you don't need to buy a specific type of herringbone tile to get this look! Basically, a herringbone pattern can be laid with any type of rectangular tile.
In fact, I've seen people buy square tiles (which are often less expensive) and slice then in half with a tile cutter. This effectively (and more affordably) creates perfectly rectangular pieces that can be laid out to make a fabulous herringbone pattern.
Herringbone floors immediately create a little movement and drama in a room, drawing the eye around a space. This is true whether you're doing wood herringbone floors or tile, and the final look feels interesting, special, and a little more upscale than other tile pattern options!

A herringbone pattern also makes a beautiful backsplash in a kitchen or bathroom.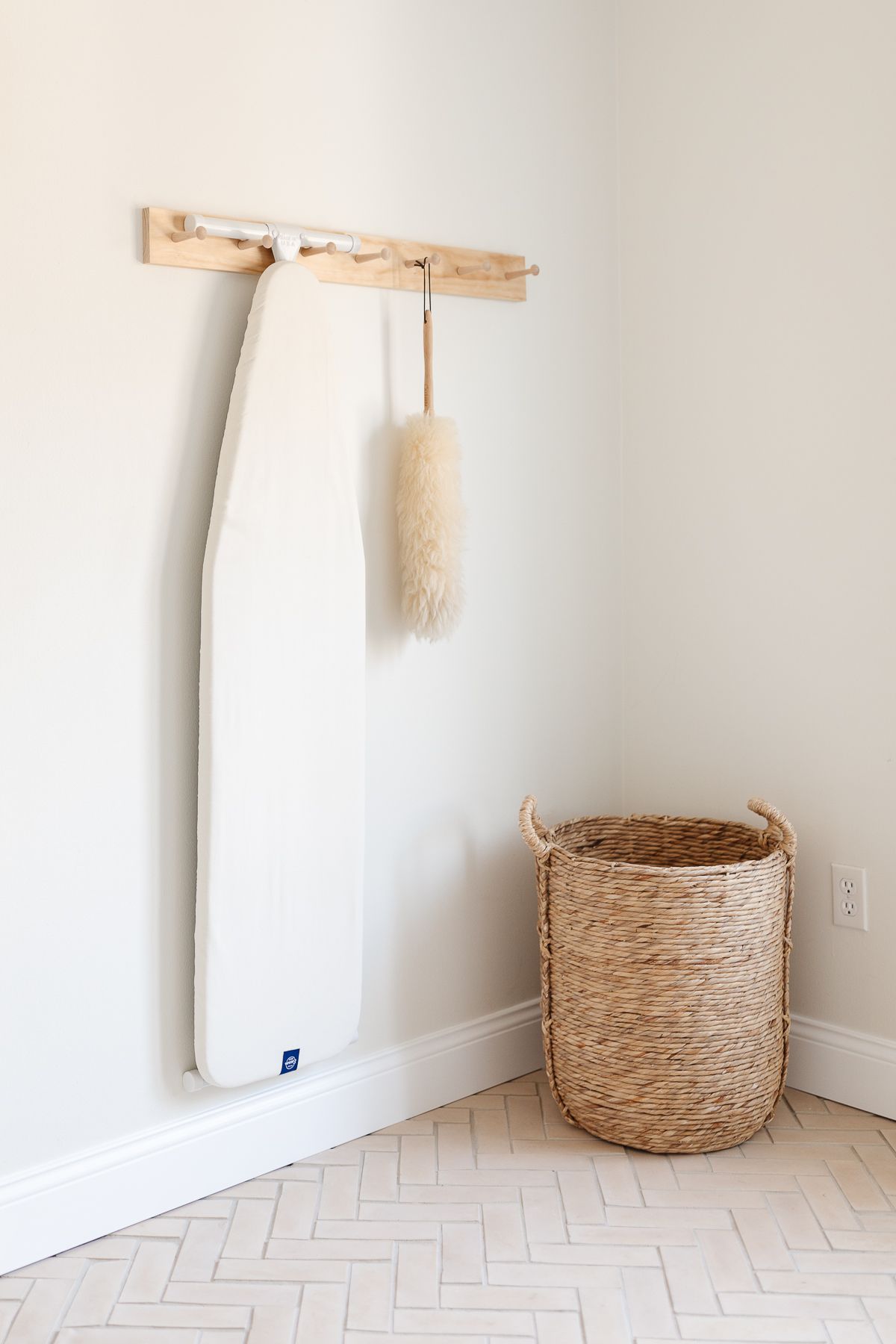 The History of Herringbone
While many believe the pattern originated in textiles, (think of the pattern in the fabric in traditional men's suiting) that's actually not the case.
The Herringbone pattern was first noted in history during the Roman Empire, where it was used to construct roadways. It was developed as an interlocking pattern laid over stone, which made it extremely durable.
Herringbone (and chevron) became popular in homes of the 1600s in France, where they were an elegant status symbol. One of the first documented instances of wooden herringbone flooring is dated back to 1539 in France.
This pattern is called "Herringbone" thanks to its visual similarity to the bone structure of a herring fish.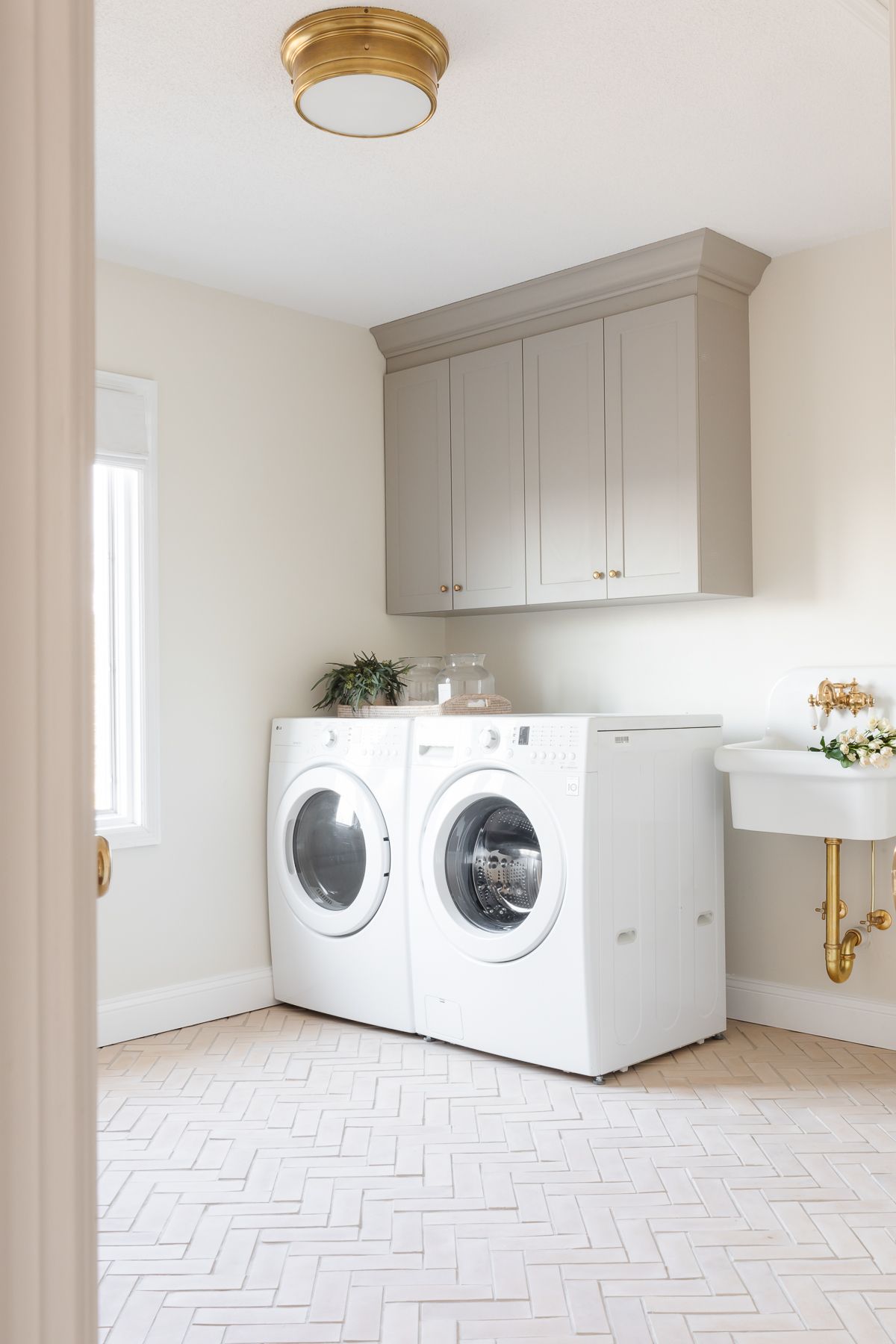 What do you think? Should I add a rug? I can't decide, but for now I love looking at our beautiful herringbone tile floors!
Frequently Asked Questions
Is herringbone floor more expensive?
The product itself is not more expensive, because you can use any type of wood or tile to lay a herringbone pattern. However, because there are more cuts and overages required, you'll need more material and an expert in installation, which always costs more.
Is herringbone flooring timeless?
Absolutely! Though the herringbone pattern has been around for centuries, it's having a big moment in interior design right now.
Is herringbone expensive to lay?
The installation process of herringbone flooring is more expensive than traditional patterns. It requires an expert in hardwood or tile flooring, and there are more cuts, with less room for error.
Does herringbone make a room smaller?
Quite the opposite, in fact! Herringbone flooring actually creates the illusion of movement and more space, drawing the eye around the room.
What's the difference between herringbone and chevron?
The looks are similar, with one significant difference. Chevron plank ends (whether tile or hardwood) are cut at a 45 degree angle. Herringbone pieces are sliced at a 90 degree angle instead. Whereas chevron creates a zigzag pattern with a point at the top of each zigzag, herringbone has a staggered pattern that creates the point.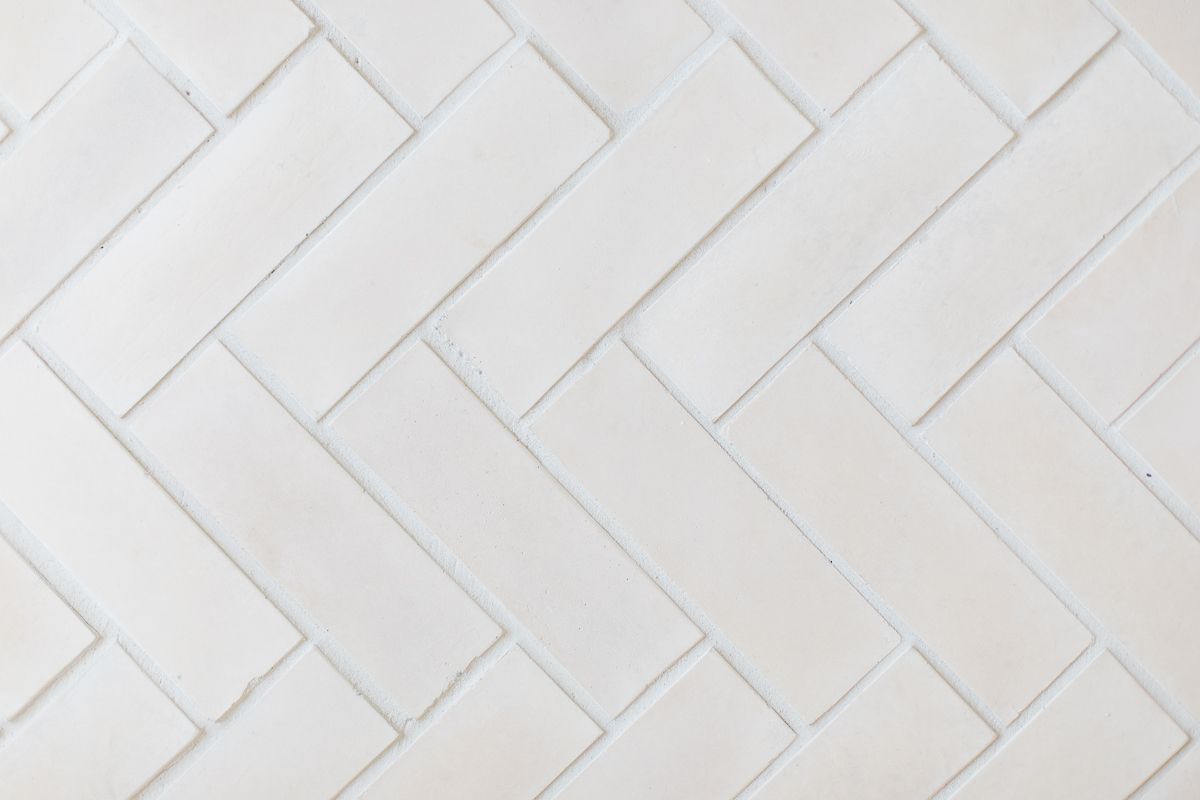 Our Herringbone Tile Floors
For our new laundry room floors, I knew I wanted a tile that was a little reminiscent of the brick flooring in our mudroom. That brick option has held up so beautifully for us over the years, and I was hoping for something just as durable, but in a lighter, softer color.
Enter this pretty cement tile that I fell in love with after seeing it used by one of my favorite interior designers, Studio Mcgee! We chose to have this tile professionally installed in the herringbone pattern since that's a little more complex than we like to take on for a DIY project.
Unfortunately, I can't recommend the company that makes this tile, as it was a frustrating process from beginning to end. However, here's the details in case you're curious:
Avente Tile
Premium Hacienda Cement Tile
2″ x 8″ rectangular tiles
$19 per Sq. Foot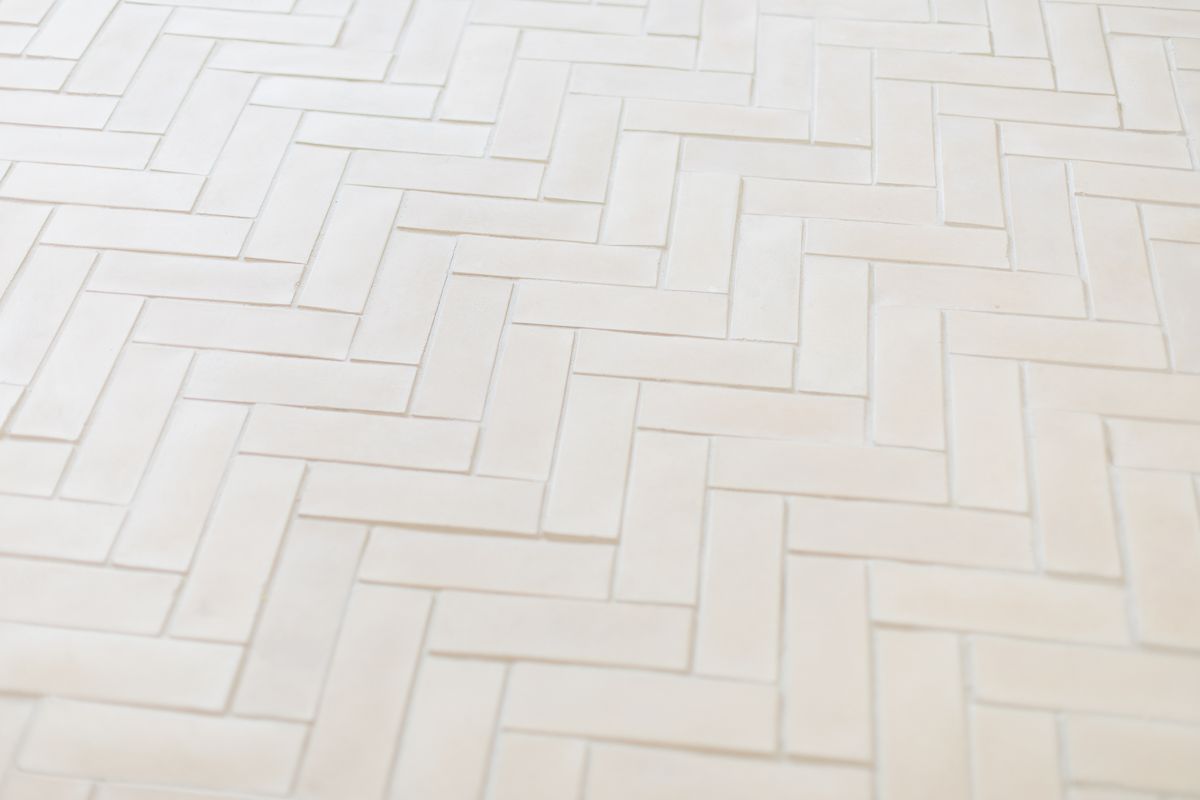 Sources
Want to capture the look of this herringbone tile floor? Here are a few in stock tile options that you can check out in a variety of beautiful styles and sizes!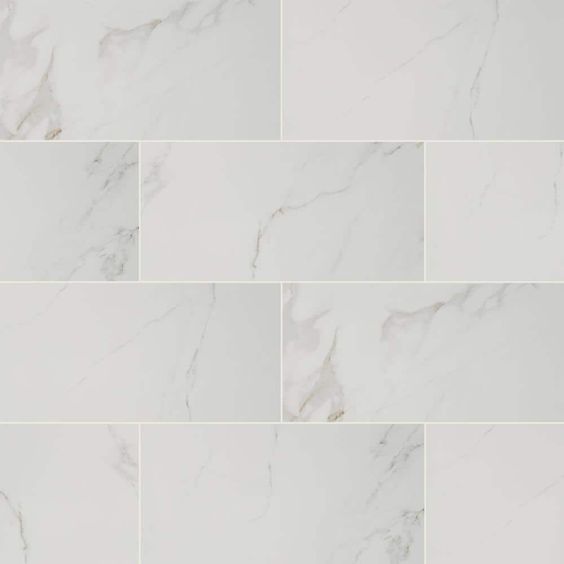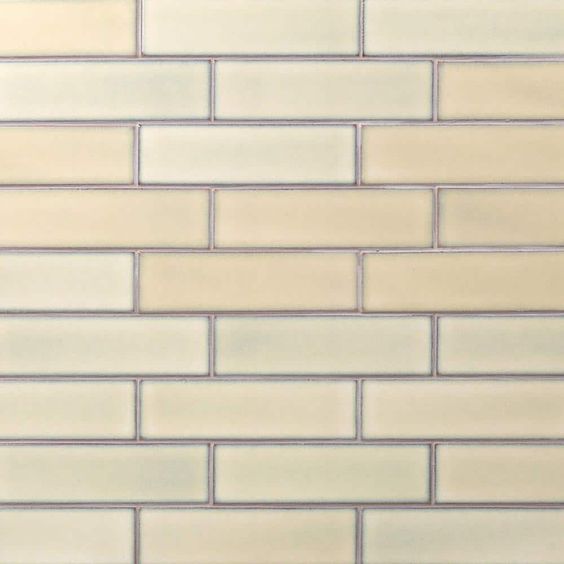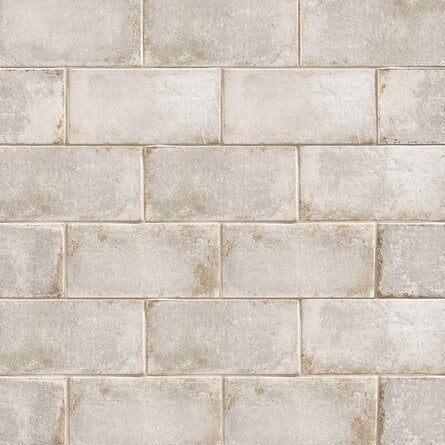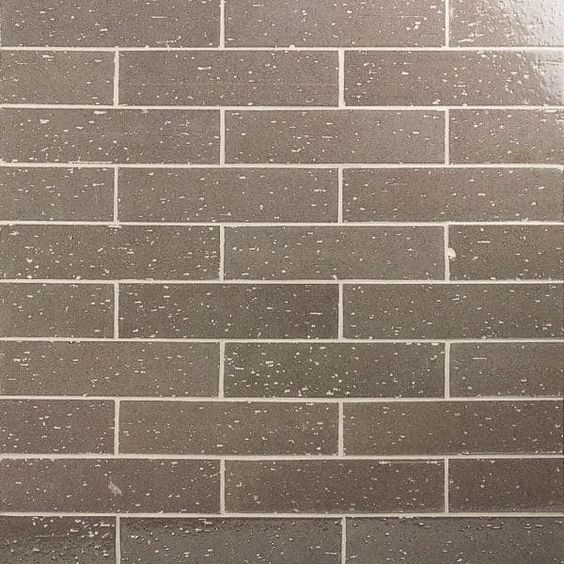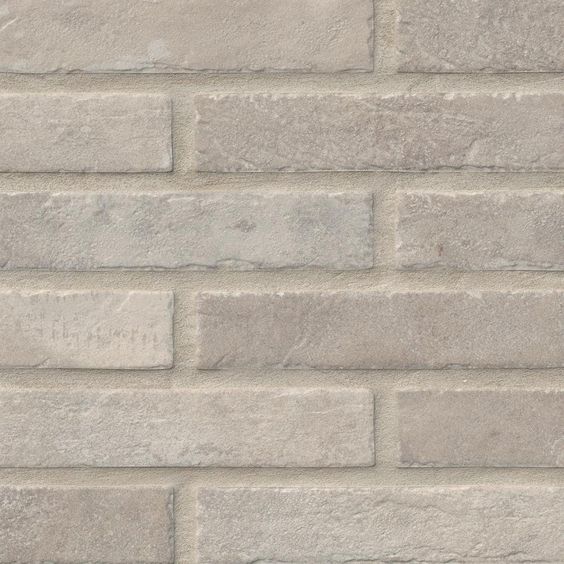 I'd love to hear from you. Are you loving the look of herringbone floors as much as we are? I hope this project has inspired you to take the leap!
More Flooring Inspiration